How to Choose a Stunt Scooter? | Complete Guide Buying Guide
Appreciably enjoyed by all age groups who have an odor for freestyle scootering, stunt scooters have become popular among teens and the young generation since their inception in 1999. If you're a stunt scooter enthusiast who is heading toward making your first purchase and want to know how to choose a stunt scooter? Look no further; we've conducted a thorough analysis and research and tried many brands to compile a complete guide on selecting the best stunt scooters.
The sport of freestyle scootering is on the rise, with about 2100 community skateparks in the UK and an increasing number of stunt riding areas. The development of the International Scooter Federation and the conduct of the 9th annual Official World Scooter Championships in 2021 spotlights the importance of this incredibly accessible sport.
When selecting a stunt scooter, size, skill level, material, design, weight, price, and durability are the factors you must consider. Take a look at the below essential information to assist you in making the best choice for you or your child and make a comfortable purchase! Choose a stunt scooter to go to school or college.
How to Choose a Stunt Scooter in 2023 – Important Factors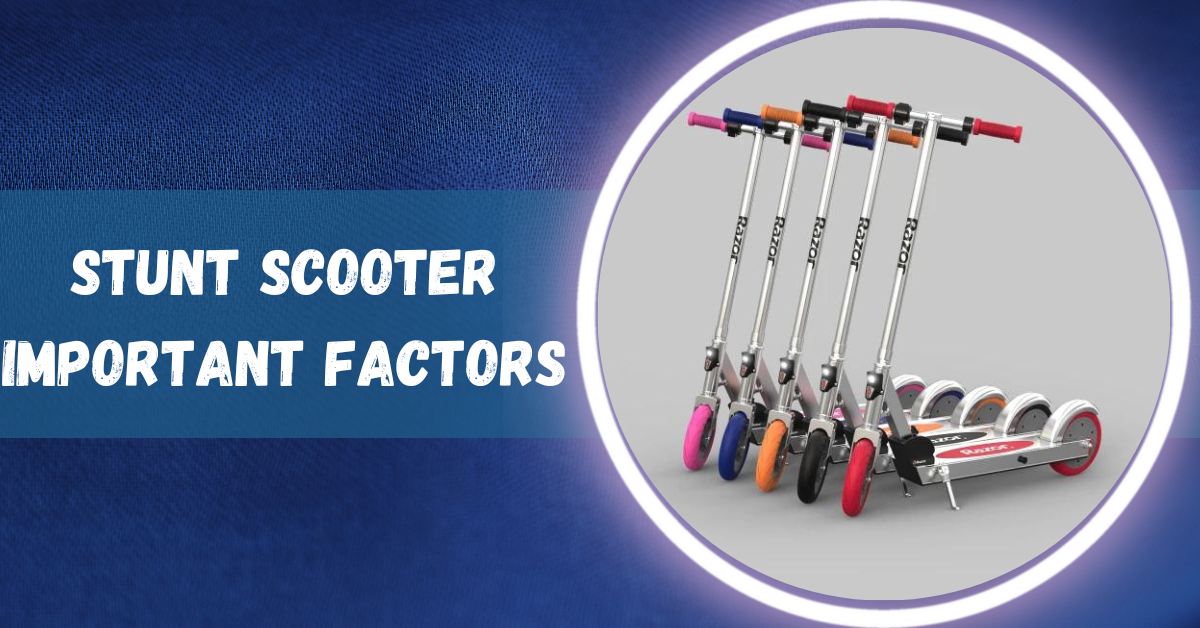 Whether you're a beginner, a pro, or just an enthusiast, you must consider the following factors to find the best stunt scooter.
Scooter Material
Naturally, lightweight, robust, and top-quality material is used in the stunt scooter's composition. The material quality contributes to the overall performance, from stability and sturdiness to comfort to endure hours of freestyle stunts and tricks. Typically aluminum deks with single or triple channels (T5 or T6 treated), aluminum or steel bars, PU (polyurethane) cast wheels with unmatchable grip, about 100mm in diameter, as well as cores, clamps sets and headsets made from anodized aluminum give the scooter a long-lasting finish so that it can better withstand wear and tear. Choose a stunt scooter that is low in weight and sustainable.
Aluminum-made scooters are more durable and lightweight than ones made from steel. If you're trying your hands at stunt riding for the first time, we suggest using steel scooters, as these are less expensive and can last longer to allow the rider to learn how to ride a scooter. However, if you're an adult with advanced stunt practice, aluminum stunt scooters are recommended, as these are sturdy and perfect for performing intermediate to advanced stunt tricks. Choose a stunt scooter for your children who are comfortable. First, teach your children to run a good scooter at home and then choose a stunt scooter.
Rider's Height, Age, and Scooter Size
When choosing a stunt scooter, we don't recommend going by age; the scooter and rider height must be the priority factors. The scooter's size must sit between the waist and hips of the rider for a comfortable ride. Most advanced riders find "park style," a lower sitting bar height, more suitable for making stunt practice in skateparks as it provides more room for stunts. The lower style permits a strong arm stance making jumps and spins more accessible.
If you're a beginner, you prefer going with the essential recommended height for a scooter. To find the basic rule of thumb for height, measure from the floor to your hip while standing and then measure from the ground up to your tummy button( navel). The midpoint between your belly button and hips gives the perfect scooter height for you.
For numerical estimation, a suitable bar height for ages 10 and up is more than 580mm. The tallest heights extend up to 735mm, but on average, 680mm and upwards handlebars are suggested for taller riders. Then calculate the height of the scooter that is best for your size using the following formula:
Height of Scooter = Handlebar height + 250mm
However, you can take help from the table below to find a suitable scooter size according to your height and age. 
| | | |
| --- | --- | --- |
| Rider's Age (Years) | Rider's Height (mm) | Scooter's Height (mm) |
| 3-7 | 950-1260 | 550-750 |
| 7-11 | 1260-1490 | 650-800 |
| 11-15 | 1490-1720 | 750-850 |
| 15+ | 1720+ |       790+ |
Riding Style of Stunt Scooter's Rider
When it comes to stunt scootering, 2 riding styles (Park and Street) exist. Consider the style you want to ride while purchasing the perfect stunt scooter. 
The park riding style is the unique style used to perform tricks on skateparks. Always try to choose a light-weighted scooter to make easier jumps and tricks on skateparks. 
Street riding involves performing difficult stunts and sliding on uneven surfaces such as stairs, roads, railings, and curbs. A heavier scooter with a thickly layered metal deck is a better choice for street riding.
However, if you're undecided about your riding style, it's better for you to go with a universal scooter that combines the features of both riding styles.
Stunt Scooter's Design
Stylish, excellent design goes hand-in-hand with the epic stunt scooters, making them a great addition to your overall look. Nowadays, a variety of designs, shades, and tones are being introduced in freestyle scooters. Not only this, complete neochrome finishes in stunt rides (famous as Oil slick, Rainbow finish, and Jet fuel)have gained immense popularity since they catch the light beautifully and stand out at skateparks or streets.
The 2 most popular scooters based on the handlebar are traditional T-bar design and pro-Y-bar design scooters. T-bar design is recommended for beginners as it's much more stable and easier to control. They're perfect for regular commuting and basic stunts. Y-bar designs are recommended for intermediate to advanced riders. These designs are lightweight, much more durable, and responsive to higher stunts. However, T-bar styles provide strength and stiffness to do stable tricks. Choose a stunt scooter that can also lift overweight.
Rider's Skill Level
In finding the solution to how to choose a stunt scooter, you must consider your skill level, as a variety of scooters have been designed keeping in mind the difficulty level for beginner, intermediate, and pro riders. If the scooter is advanced, it may result in increasing difficulty for the rider to control it and perform tricks and vice versa.
Below is a general guide about different types of scooters that suits different skill levels:
A scooter with 100mm or small wheels is suitable for beginners.
A little bigger wheeled scooter (about 110-120mm) with sturdy construction is required for riders with intermediate skill levels.
A top-of-the-line ride with bigger wheels( 120mm) and high-quality composition is needed for a pro rider.
Small-wheeled scooters are best for beginners, but as the skill level increases, the need for a scooter with significant-sized wheels increases to boost stability and speed. Choose a stunt scooter that can use both the baby and the larger on time, which can be smaller.
FreeStyle Scooter Weight
The weight of the scooter directly impacts the efficiency of the rider who is going to do skatepark or street tricks. An ideal stunt scooter for kids may have a weight range between 3.4kg-3.8kg, while that for an adult stunt ride ranges up to 4.5kg.
Price of the Ride
Everyone has a specific budget in their pocket when it comes to finding the best kick scooters for themselves or their kids. There're a number of models of freestyle scooters in the market with a price range of about $50 to $300. To make more reliable stunts, you need a scooter with the most sturdy and durable parts. The price of these rides is basically determined by the quality of the material used in different parts assembled to make the scooter. If you're a beginner, then you can choose a stunt scooter for you for just $80 to $150.As the skill level increases, the need for strong parts to make reliable tricks increases, which automatically demands more cost.
Custom Scooters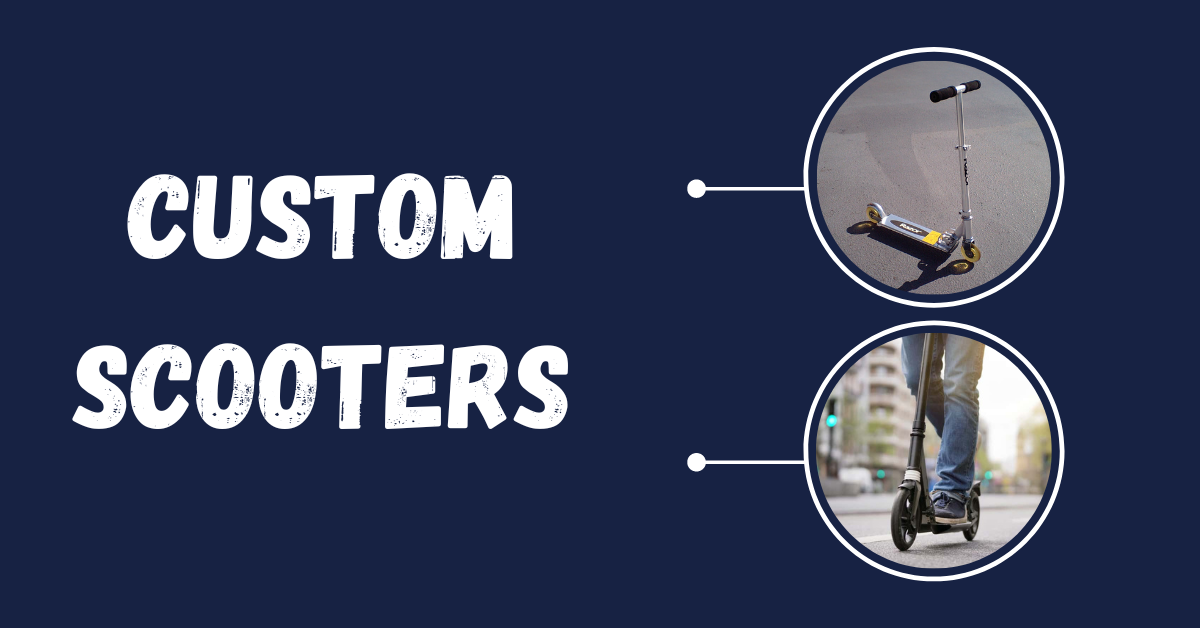 If you want to have more fun, then we suggest a personalized scooter built according to your preferences. A number of brands come with a variety of wheels, brakes, bearings, clamps, bars deck, and all other parts that you can select and then assemble to design a modified ride for yourself. You can freely swap in and out between different parts of the same brand or different brands to get a better quality trick ride for you. So you don't need to worry about how to choose a stunt scooter if you fancy having a customized one for you. Always choose a stunt scooter that is sustainable and comfortable that does not hurt children.
FAQs
What is the best size scooter for a 12-year-old?
On average, a 12-year-old teen will be between 1490mm to 1720mm tall, which means that a scooter with an average 750 mm-850 mm height perfectly matches the height of the 12-year-old teen.
What is the perfect size for an adult stunt scooter?
Typically for adults, the perfect wheel size for stunt scooters is 110 mm-120 mm, and overall scooter size ranges from 800 mm-850 mm. Choose a stunt scooter that can be lifted easily.
The Bottom Line
We hope that your query – "how to choose a stunt scooter," has been resolved. We have left no stone unturned to provide you with all the information on a single page. Once you narrow down all the above-mentioned points according to your needs, you'll come out with the best choice. Always choose a stunt scooter to protect the weather from pollution and stay healthy.
Choose a stunt scooter wisely, and let riding bring matchless pleasure!